Thieberger's Ten Years of PHVAC Experience Expected to Help Manufacturer's Representative
Grow New Mid-Atlantic Territories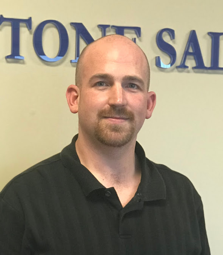 (Pottstown, PA — February 27, 2018) Keystone Sales & Associates (KSA) announces the hiring of plumbing, heating, ventilation, and air conditioning (PHVAC) industry veteran, Paul Thieberger, to the position of Territory Sales Manager. Thieberger is charged with expanding the company's reach in Virginia and North Carolina effective immediately.
"So far, the first quarter of 2018, is proving to be a banner year for Keystone Sales & Associates," said Bob Della Sala, KSA President and owner. "By expanding our Mid-Atlantic footprint to the Carolinas with our new relationship with Bosch, Paul will be instrumental in opening doors for us in the northern part of the state, and continuing to bring the quality support our Virginia customers have come to expect."
An alumnus of Bridgewater College, Thieberger began his career with Southern Refrigeration Corporation and most recently served as Outside Sales Representative for R.E. Michel Company. In these roles he mastered purpose-driven sales, sales prospecting, and customer service training. 
"KSA has an impressive reputation as a premier manufacturer's representative in the PHVAC industry," said Thieberger. "I became familiar with their work, and approach to customer service, when working on the wholesale distributor side. Now, in this position, I can use that background when calling on distributors and make a bigger difference growing lines in the area."
In addition to the acquisition of Thieberger, KSA recently secured the exclusive rights to represent Bosch PHVAC products in North and South Carolina.
Offering sustainable HVAC solutions, Bosch heating and cooling products include water heaters, wall-hung boilers, geothermal heat pump systems, and 18 SEER Heat Pumps as well as controls and accessories. KSA will carry and provide customer training on each of these products while promoting Bosch's two flagship offerings – T9000 Tankless Water Heaters and Inverted Ducted Split (IDS) Heat Pump Units.
For more information on the latest Keystone Sales & Associates news, call 1-800-220-1025 or visit uskeystonesales.com.
ABOUT KEYSTONE SALES & ASSOCIATES:
Established in 1973, Keystone Sales & Associates (KSA) is the premier manufacturers' representative for Plumbing, Heating, Ventilation and Air Conditioning products in the Mid-Atlantic region. Headquartered in Pottstown, Pennsylvania, the company is experiencing rapid growth and expansion by offering a large selection of related products from a single source. As a value-added supplier, KSA provides distributors and contractors with customer support and hands-on technical training through its professional development arm, Keystone University.